This article provides details on the actions that can be performed on the district's News page by the district's News Manager.
Add News
Edit News
Add a Drafts
View Archived News
Assign News Managers
Video:
This clip from the District Management Permissions video demonstrates how News Managers can manage the district's News Post. The clip runs from 2:03-2:30, at which time it begins to demonstrate how to manage the district Users.
Visuals: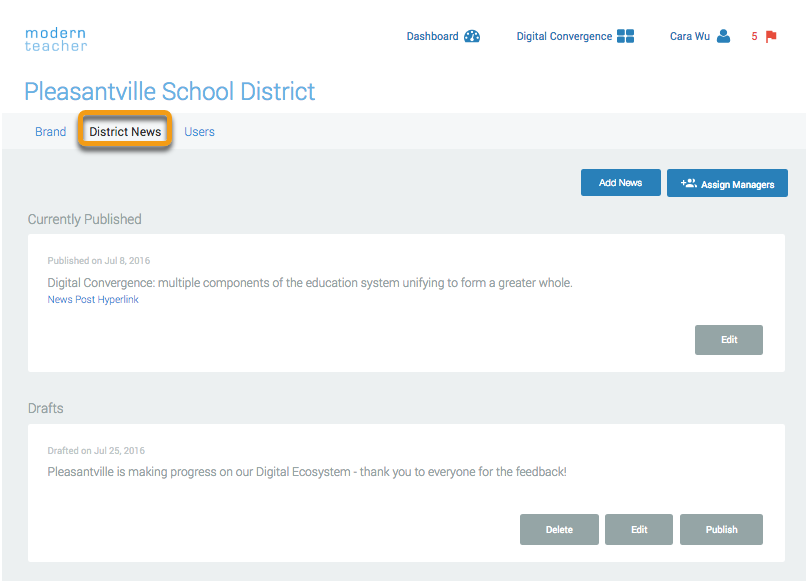 Above: District Management News Page
Above: District News Post on Dashboard
Written Explanation with Visuals:
Add News
News managers can add News Posts to display on the district's Dashboard. To add a new News post, navigate to the News page and click the Add News button, which opens the popup shown above. There, you can add the content of the News Post, as well as an optional URL to hyperlink the News Post on the Dashboard to an online resource. Note that News Posts have a 140 character limit to ensure they fit on the Dashboard. To make the News Post visible on the Dashboard immediately, select Publish. To save the post for later, select Save as Draft.

Edit News
News Managers can edit the currently published News Post, or any Draft they have saved. Clicking the Edit button opens the same popup as shown above, from which you can Cancel or Save your edits.

Work with Drafts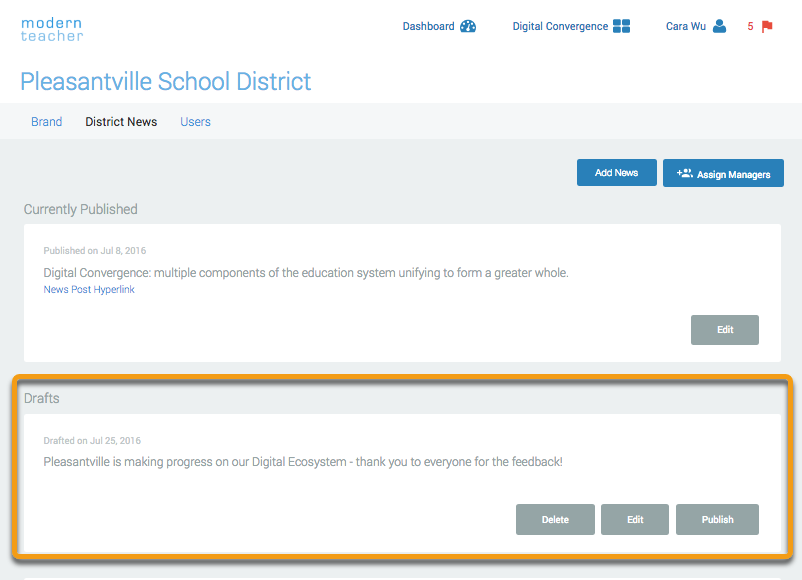 When adding a News Post, News Managers have the option to Publish or Save as Draft. Saved Drafts appear in the Drafts section of the News page, as shown above. News Managers can delete, edit, or publish any post in this Drafts section. 

View Archived News
At the bottom of the page, News Managers can see any Archived News - any posts that have previously been published on the district's Dashboard. Archived News posts include the date they were published for reference.

Assign News Managers
News Managers can be assigned at district setup, and they can be added at any time. Existing News Mangers have access to the Assign Managers button shown above, which opens a popup to allow them to select more News Managers. Users Managers can also assign the News Manager permission to any user on the district's User Management Page.
Update: The user assigning the News Manager can choose whether or not to send an email notification to the assigned/unassigned user(s). The user(s) will receive an in-platform notification either way.