District-level PL Managers as well as School and Cohort Managers receive these notifications in the Notifications Dropdown Menu. On the Notification Preferences tab, you can select which Notifications you would also like to receive via email.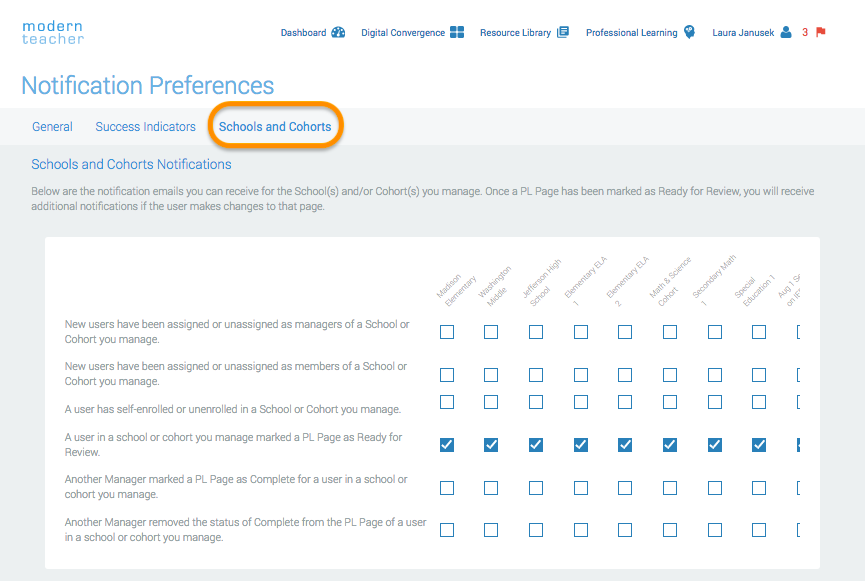 This same set of notifications applies to district-level PL Managers as well as School and Cohort Managers, but users will only receive notifications and see the columns on the Notification Preferences page for the Schools or Cohorts that apply to them. District-level PL Managers see all columns and receive all notifications, while School and Cohort Managers receive only the notifications and see only the columns for the School(s) and/or Cohort(s) they manage.
Users can edit their preferences on these notifications separately for each School and Cohort. For instance, they can opt in to get all emails about one school, while choosing to get no emails about another. 
Due to the large number of users these Managers may have access to, only one of these notifications are checked to send emails by default: A user in a school or cohort you manage marked a PL Page as Ready for Review. This notification alerts the manager to the fact that a user is ready for their coaching help or feedback.
Users can easily customize the email preferences to be alerted any time a member is assigned to or unassigned from their School or Cohort, and any time the PL Page of a member of their School or Cohort is marked as Complete, or un-marked as Complete. Regardless of email preference, these users will receive all of these notifications in the platform.
For more detailed notifications on specific users' PL Pages, see the article on the Subscription-Based Notifications.